Gibbs & Cox naval architects and marine engineers are dedicated to providing exceptional and comprehensive service to all of our customers. Whether it is a virtual or in-person event, it is crucial for us to meet with our customers and learn about their evolving needs so that we can tailor our marine engineering process and services to better serve them. One way that we do this is through trade shows. Trade shows provide us with the opportunity to meet with our customers from across the globe to discuss emerging trends in the maritime environment, develop relationships with other experts from our industry, meet new potential partners and clients, explore new ideas, and learn about revolutionary concepts.
The Benefits of Attending Trade Shows
Trade shows are beneficial because they provide an engaging, interactive environment where our customers can learn about Gibbs & Cox's unique capabilities, ask questions, and see our display. The maritime environment is constantly evolving, and G&C continuously improves our capabilities and services to remain on the cutting edge of technology. Trade shows provide us with the opportunity to highlight new technology and services. G&C recently exhibited at the Sea Air Sp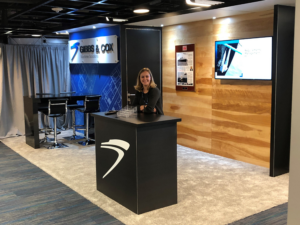 ace trade show, where we debuted our newly combined capabilities since our acquisition by Leidos. Attendees were able to come by our booth and meet a variety of our experienced marine engineers and naval architects, as well as many of our leadership, and learn about how we combined G&C ship and USV capabilities with Leidos undersea sensors and UUV capabilities to bring our customers full domain solutions throughout the maritime environment.
Come meet us in-person at the following upcoming tradeshows and learn more about our marine engineering services!
• Shock & Vibration Symposium (Sept. 19-23)
• Society of Women Engineers (Oct. 21-23) – Visit us online and in person!
• International Workboat Show (Dec. 1-3)
• 34th Surface Navy Association National Symposium (Jan. 11-13)