DLBA is continuing to support the Virginia Polytechnic Institute and State University in their effort to modernize the ocean engineering laboratory in Norris Hall. Over the last year, we have been working with the customer to develop a concept that meets their performance objectives. The project has recently moved into the detailed design and construction phase, and our team is working to have the new towing carriage up and running by the fall 2021 semester.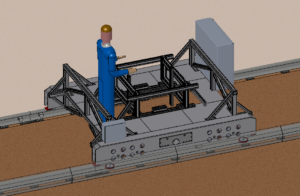 Virginia Tech's existing tow carriage is over sixty years old, and this upgrade will improve the test capabilities of the laboratory significantly. The maximum carriage speed will double from 10 ft/sec to 20 ft/sec, and the maximum acceleration will increase from 2 ft/sec2 to 15 ft/sec2. The towing carriage will be unmanned when operating, which is also a change from the existing system. An artist's impression of the new carriage is provided in the images below.
This updated carriage and drive system will achieve the speeds necessary to perform planing craft slamming experiments.  In this type of experiment, a ship model is driven at high speeds into waves.  At full scale, slamming events involve hydrodynamic forces of incredible magnitude.  These slamming experiments characterize the structural loads and seakeeping attributes of fast craft.

After successful installation of the carriage, a future upgrade will provide a vertical planar motion mechanism (VPMM) to the laboratory's collection of testing apparatuses to enable Virginia Tech to perform these specialized planing craft experiments.  DLBA is currently developing a design for the VPMM, which will allow scale models to be controlled in the vertical plane over a stroke length of approximately 25 inches.
DLBA is partnering with Edinburgh Designs to execute this project.  Edinburgh Designs is an internationally recognized leader in the design and construction of hydrodynamic test equipment.