Charging into the new year, the DLBA and Sea Force teams are continuing to develop the new SeaForce 410 – the first in a new line which is changing the paradigm for what is possible with outboard powered boats. This program is truly a collaborative effort which continues to be both challenging and rewarding.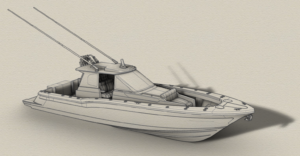 With the hull, structural grid, and interior liner tooling models already being released for manufacturing, DLBA's effort has focused on the deck and console tooling. This is a time-consuming task, as many of you know, as it needs to be practical and user friendly while meeting all the client's goals…and at the same time, it has to look fantastic. The deck part (which is actually the main deck and liner, and the cap deck) includes many details including hatches, drain details, windscreen landing, rod holders, and the list goes on and on…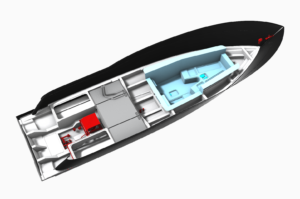 An additional challenge of this project is the extremely aggressive schedule the client must meet with the goal of having the first boat at the 2021 Fort Lauderdale Boat Show. This boat will have a fit and finish normally reserved for larger yachts, and some new features not seen elsewhere in the market.
She's really coming together and promises to be a head turner both at the dock and when she's leaving folks in her wake running at a cool 65 mph with quad Mercury 450's on the transom.