Riostar 160
January 12, 2021
---
After a hiatus in her construction program, the train is getting back on track for Riostar and this 160-foot displacement yacht. The vessel styling was provided by Fernando de Almeida, who brought DLBA into the project to support the Naval Architecture and Marine Engineering elements. The design of this vessel was completed back in 2015 and construction began at that time. After a hiatus due to a variety of factors, activity has restarted. This vessel will be Riostar's largest build to date, it will be one of DLBA's first true displacement hull designs. In fact, when the keel was laid, she was to become Brazil's largest yacht constructed at that time. Riostar is based in Rio de Janeiro.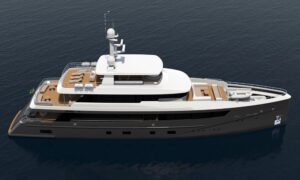 This tri-deck yacht is packed with amenities, including a large beach club, an open air flybridge with hot tub, and a plumb stem in keeping with mo dern designs. The foredeck contains the main tender storage space, as expected, but also has a large seating area for guests. She will have accommodations for 10 guests in 5 cabins, and 9 crew. Outfitted with twin Caterpillar C32 diesel engines driving propellers on inclined shafts, the all-aluminum vessel is predicted to have a maximum speed of 15 knots, with a cruising range of 4,000NM at 12 knots. She will have a length of 160' (48m), a beam of 29' (8.9m), and a displacement of about 440 tons.
We look forward to this project being completed and seeing her in the water around the world!