Velocity 38m: Keeping It Simple Has Never Been So Fancy…
January 20, 2021
---
New on the drawings boards at DLBA for 2021 is the 38M semi-displacement yacht, VELOCITY. This 125-foot raised pilot house yacht is coined VELOCITY, not for her speed, but for her ease of use. This concept has evolved out of the old axiom "Keep It Simple Stupid (K.I.S.S.)" and is an attempt at lowering the barriers to entry into yacht ownership. Yachts are being packed with more features than ever before, and almost everything on the boats have wires connected to them. The end result of this evolution is a vessel that is more complex to operate and maintain than the vessels of year's past. The concept here is to provide a contemporary yacht which provides some of the modern amenities found aboard superyachts, without being overly complicated. Additionally, by making some conscious decisions on certain items with respect to fit and finish, an attempt is made to keep build price under control as well. The net result is a feature-packed, reliable vessel that is perfect for owners stepping up in size, or jumping in head first into this size bracket.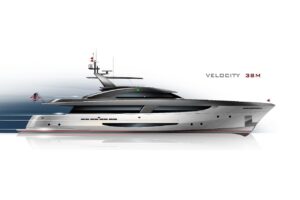 VELOCITY is capable of a modest 20 knot cruise speed thanks to twin diesel engines driving fixed pitch propellers. The propeller tunnels are located in pockets to keep operational draft to a minimum. The electrical plant has twin generators which have the ability to switch over or parallel automatically, depending on the plant needs, to keep the lights onboard burning bright. Due to the smaller size of the vessel, all exterior components will be manually operable by the yacht's crew – all doors and openings, the boarding ladder, swim ladder, etc. The machinery space is a little larger than normal on this vessel to allow more room in the machinery spaces for auxiliary equipment to provide better layouts and access for maintenance. The arrangement of the equipment, piping, and electrical systems was developed to allow intuitive arrangements of piping and components, with redundant components in many locations. This allows the crew to easily understand operation and perform maintenance of the fully independent systems onboard.
On the interior, automation and electrification is also kept to a minimum. Systems that have been historically unreliable or troublesome have been eliminated – such as raising TV platforms, electric blinds, and electrically opening windows. Instead these components are integrated in a way in which they keep with the styling of modern yachts, however the owner and guests can operate them by themselves one hundred percent of the time. She will be fitted with the latest lighting and entertainment systems, selected to follow the most popular land-based systems, for enhanced reliability and familiarity to guest operators. These are intended to be the most advanced/complex systems on the vessel, where all others are laid out akin to a commercial workboat, for increased reliability, maintainability, availability, and reduced cost. Keeping it simple has never been so fancy….