Developing Today for the Future of Tomorrow
September 25, 2020
---
Through the challenging times of COVID-19, Gibbs & Cox has been extremely fortunate to remain in a position of continued growth and development. As new awards come in, and new projects begin, we continue to invest in quality candidates and strive to expand our reach. One of our main focuses is pursuing driven candidates of both undergraduate and advanced degree levels and developing them into the leaders of tomorrow. COVID-19 has changed the way that we engage with our community, and though we must refrain from in-person events such as trade shows, conventions, and career fairs, Gibbs & Cox has become highly-active in the virtual community, regularly attending virtual college career fairs and trade shows.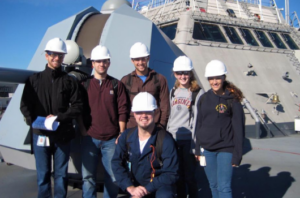 In order to sustain our level of progress, investing in our employees is our top priority. Our employee development strategy begins with an individualized plan that leads to company growth, success, and a meaningful, fulfilling impact. As the largest independent naval architecture and marine engineering firm in the United States, we are proud to offer unique positions that give our employees the ability to work on a wide range of projects over several locations, nationally and internationally. From naval architecture and marine engineering to program management and software development, we encourage our team to explore their interests and pursue what drives them.
Our staff often participates in challenging and rewarding opportunities utilizing advanced tools and technologies, which provides an excellent chance for personal and professional development. At Gibbs & Cox, our priority is our people. From personalized one-on-one performance reviews to employee surveys, your voice matters. When our staff succeeds, we all succeed.
We are constantly seeking motivated and qualified individuals to join our highly talented team led by industry-recognized experts. We offer a wide variety of positions for interns, highly seasoned and experienced engineers, program managers, and designers. Many of our current leadership got their start as interns at G&C!